About Us
Truett's Auto Collision has been serving car and truck owners in South Carolina since 1989. While being in business we have grown in many different ways. More than anything, we are always striving to please our customers. We work hard to get your vehicle repaired in a timely fashion and delivered in pristine condition. Quality workmanship and exceptional customer service area just a couple of the reasons why customers always come back to Truett's Auto Collision. We always strive to make sure that the job is done right the first time so that you have a satisfying experience. We are dedicated to our company and our customers. Our mission is to deliver a superior value to all!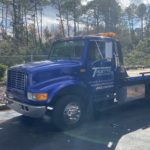 What we've been working on

Taking care of your customers is vital because they are the heart of your business
Thomas W. Truett- Company CEO & Owner
The employees over at Truett's Auto body were more than accommodating to my situation. Enterprise has a office at the shop that helps with rentals when you're in an accident. my truck was in the shop, checked out and the information was sent to the insurance company. a check was cut right away and I completed my business with them. Great customer service, they have my business for life.
Chris Esposito
Truett's Auto Collision and service is the ONLY place that I take my car to for regular maintenance. I have gotten oil changes, tire rotations and had some touch of work done to the paint on the car.
In addition to that I've had my Girlfriend service her car here with oil changes, tire rotation and other small service issues
This is the ONLY body shop that I know treats you like your family and gets the job done right in a timely fashion.
If you're looking for a GREAT body shop Truett's Auto Collision & Service is it.
Cole K
Location
Truett's Auto Collision Inc
4731 US-501
Myrtle Beach, SC 29579
Contact
Need additional assistance? Please contact us:
(843) 236-8926
Hours
We are open Monday to Friday, from 8:00 am to 5:00 pm.